Itacar&eacute
>
Transport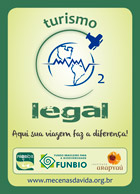 Building a Carbon Free Destination

In Itacaré and Serra Grande, look for the «Carbon Free Tourism Certification Program» seal exposed in hotels, restaurants and other services.

The funds gathered through the program are redirected to traditional small-scale farmers to plant trees which will neutralize CO² emissions of the program contributors.

» Carbon Free Certification Program
» Carbon-Free Certified Services

Program directed by the Movimento Mecenas da Vida (Patrons for Life Movement)


facebook.com/itacare.com
© Copyright 2017 ITACARE.COM Serviços Virtuais Ltda • Espaço Urbano - Rua Lodônio Almeida 163 - Sala 7 - Centro - Itacaré - Bahia • Tel. +55 73 3251 3143 • email • blog
Equipe ITACARE.COM: Christophe Jean, Marcelo Fantucci, Nigia Christina Vieira, Marina Rootham.
Special thanks: Ana Laura Ferreira, André Wood, Kalalea, Fábio Bezerra de Lima, Natalia Borini Prida, Juliana Machado, Denise Terranova, Nice Vidal, Arnaldo Faustino dos Santos, Eric Feathers, Maya Aletti, Christophe Campana, Eloísa Urrutia • Photos: Mario Nogueira, Lupércio Oliveira, Nuno Borges, Alexander Pfiffner, Irado, Paulo Opipari and ITACARE.COM team. Other photos provided by the site advertisers.